A woman life journey expressed through her interaction with a rope. Soloist: Marie Fourcaut
Briggs Opera House White River Junction, VT
Red Bench Variations 2022
A 10 minute video solo composition filmed from different perspectives. Self filmed and edited by Babette
Excerpt of Red Variations
Passacaille de Persee 2021


A reconstruction of the 17th century choreography of Guillaume Louis Pecour from the Feuillet Beauchamps notation with music of Jean Baptiste Lully. Danced by Ellis Broderick and Julie Frew
Covid, a poem and a rope 2021


A documentary about the making of Farewell. Shot by Carla Kimball at the Barn in Corinth. Made possible in part by a grant from the Vermont Arts Council
A choreography based on a repeated minuet theme, played simultaneously at fast and slow tempi. This piece, was scheduled to premiere on April 24th 2020 at the Town Hall Theater in Middlebury VT but was cancelled at the last minute due to COVID.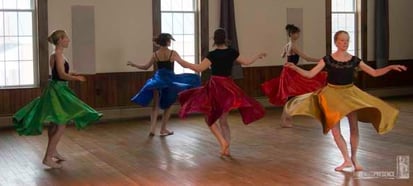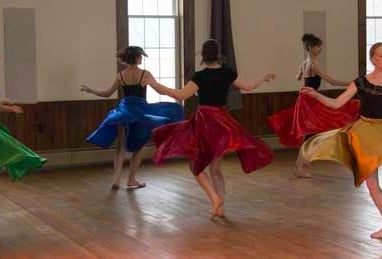 A piece in the baroque dance style on a musical mixing of a metronome and J.S. Bach's BWV 564 Adagio and Fugue. Premiered in February 2019 at the Highland Center for the Arts, Greensboro, VT
A structured improvisation exploring women's universal use of a square piece of fabric with dancers Marie Fourcaut and Ruth Mayer.
A piece expressing the tension between mothers and their daughters sexually coming of age. Premiered at the Hebrew Center with dancers of the Yard and What's Written Within.
This piece evokes the unrest prior to WW2 . Sound arrangement by Edward Childs using a 1938 recording of Neville Chamberlain address "a Message to the Empire" . It was created for the group What's Written Within and performed as a joint community outreach with the dancers of the Yard.
A reflective piece evoking the sorrow and anger of women who lost loved ones in battle. Performed by dancers from the group What's Written Within at the Hebrew Center in Martha's Vineyard.